How to Increase Odds of Catching a Trend
Most forecasters categorize price action and assign names or numbers to certain patterns. Patterns may differ but are often dependent on each other. Basically, there are three types of patterns: directional, neutral and trend.
Trends frequently begin violently. They often originate after neutral phases, also known as consolidation periods. Directional patterns are most common mid-trend.
The trend type pattern is the rarest and the most profitable if caught early. To increase the odds of catching a trend early, focus on setups that commonly precede them.
Just before a trend begins…
Look for a series of three to five days with opens and closes that have very little variance. Markets move from balance to imbalance. When balance is established, probabilities increase for an above average vertical move.
Daily ranges over a five-day period tend to be below the 20-day ATR (average true range).
Volume is often below the norm. Ranges contract and volume diminishes over days and weeks.
Consecutive weekly ranges are often below average and severely overlap.
The first chart shows daily profiles. Note that over a couple of weeks, a balance area took shape. And just before the breakout, the previous four days had similar opens and closes.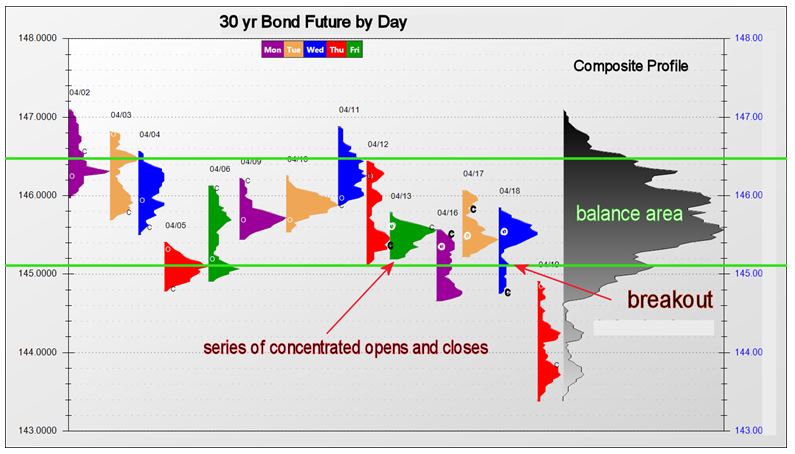 The second graph shows the same data using weekly profiles. Just before the onset of the trend lower, this market established balance from a day and week view. When a few days of essentially unchanged opens and closes are matched with a couple of weeks of severe overlapping ranges that are also below average, odds favor a large vertical move or inception of a trend.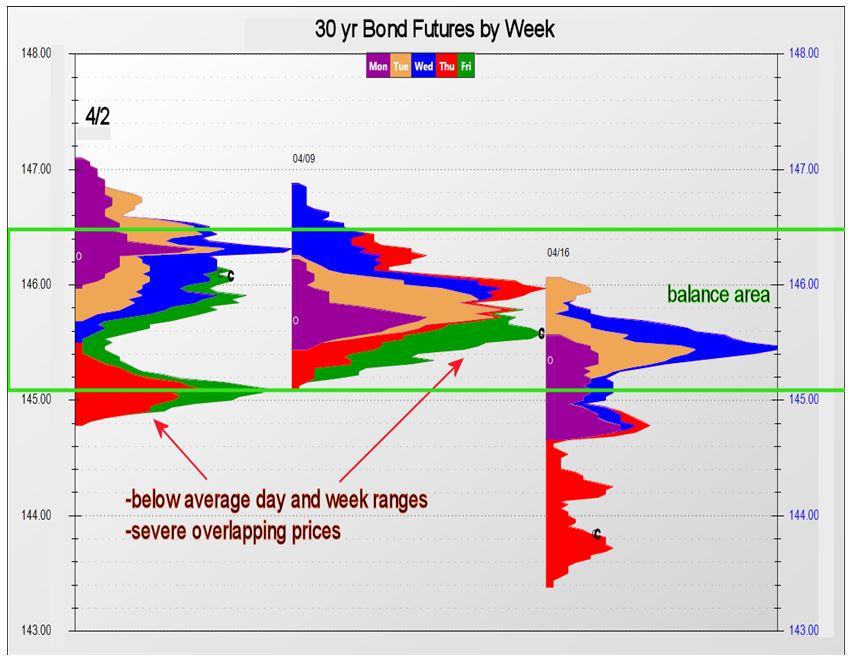 John Seguin, Market Taker Mentoring
---