Your Regular Reminder to Review Your Option Trades
As a constant reminder to traders everywhere, please review your trades regularly. I tell this to traders as often as I can because it is that important. Simply said, there is no better way to see what you are doing wrong and doing right. To me, it has always been an eye-opening experience to go back and review my trades. The reason to do this is to get better. But there is another reason that will give you a chance to profit as a trader sooner rather than later and that is to learn about options from your screenshots.
In both group and one-on-one coaching, I tell traders to take screenshots all the time. You will learn from me and other sources, but I promise you will learn more from yourself through the screenshots. I tell my students to take screenshots if they are paper trading as well. A trader will not learn much if he or she is just focused on the P&L statement, particularly if paper trading. But to take a screenshot like below and see how the option prices and greeks change over time can really benefit the option trader.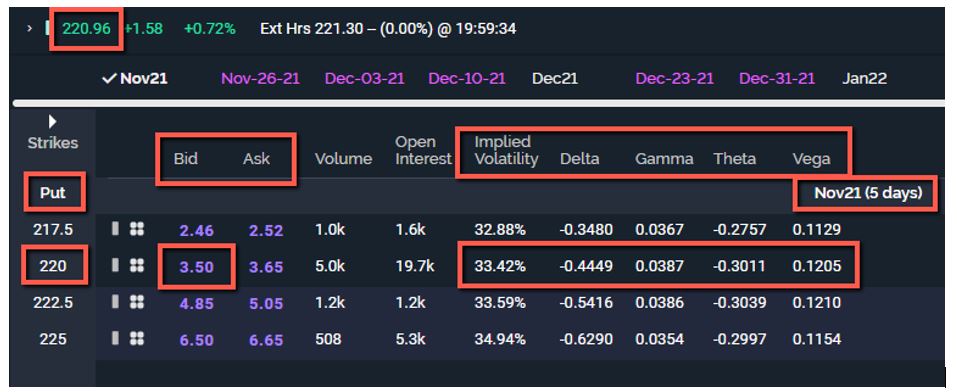 In the example above, a November (Nov 19th) put was sold for a credit of 3.50. Analyzing and understanding how implied volatility changes, the stock's movement and time passing change the premium is pivotal for an option traders' potential success.
Just to give you an example, if IV currently increased 1% (currently at 33.42%), the current vega of about 0.12 (0.1205) would increase the premium by that amount. The vega will change due to the passing of time and movement of the underlying too. To me, it is imperative to have a decent understanding of how that works.
Reviewing your option trades is not debatable. It needs to be done. An easy way to help you do it is by taking screenshots. Take a screenshot of the chart, the option chain and volatility if need be, and include them in your trading journal.
John Kmiecik, Market Taker Mentoring
---