Some Bearish Setups Are Bullish
I often remind traders that not every bullish setup that fails is bearish and not every bearish setup that fails is bullish. Then again, sometimes they are. Here are a couple of recent patterns we looked at in MTM's Group Coaching class with one proving this theory. The jury was still out on the other one at the time of this writing.
Breaks of Support and Resistance
As I like to say, breaks (specifically two-bar breaks) of support and resistance are potential directional opportunities. The key being that support and resistance have a better chance to hold than break. So, when an underlying comes up to resistance or down to support, it has a better chance of not getting through. But sometimes the push through accelerates the stock. Many technical traders will play both sides. They should realize support and resistance have better odds to hold. However, if they don't, it does not always mean you should take the opposite approach. There are other factors to consider, like additional support and resistance levels, the current trend, and an extended move before the break.
TTWO Example
In Group Coaching class, we were watching for a potential reversal on Take-Two Interactive Software, Inc. (TTWO). The six-month daily chart, as seen below, was trading in a downward channel approaching the upward channel, which was expected resistance.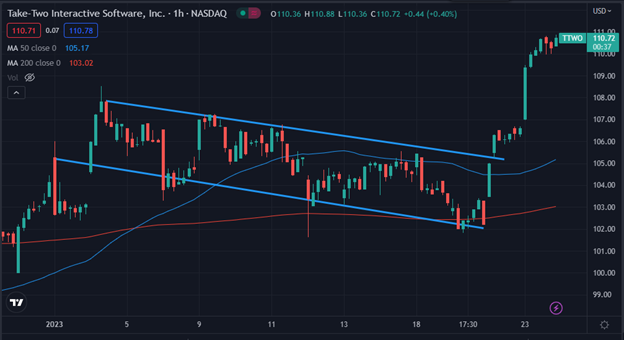 I remember saying in class the stock has a better chance of holding and not moving above that resistance level. But in this case if it broke the channel, it might go on a bullish run, which it did. Patience and a modeled-out bull call spread captured some profits.
XLY Example
We also looked at the Consumer Discretionary ETF (XLY) on a weekly chart. As you can see below, the ETF has been trading in a downtrend since the end of 2021 and has not been able to break that downward trend line, which has acted as resistance.
Resistance has a better chance to hold but if the ETF can break that trend line, it could be in store for a big bullish move. Keep watching!
Finally
You don't always want to play bullish or bearish, but there are times the technical setup warrants it, as with these two examples. The smart option trader will be patient and not chase the trade, instead letting it come to them.
John Kmiecik, Market Taker Mentoring
---