George Tkaczuk
George formally made the transition from the medical field to the financial field in 2003, joining MF Global as a series 7 stock broker. In 2004 George acquired his Series 3 and has since been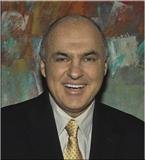 helping clients with investments in stocks and commodities.
George's market insight has put him in the financial media spotlight and he has been a frequent financial commentator for the CME Group in Chicago, First Business, Fox Business News, Bloomberg , CNBC, CNN, First Business, SKY News, & BNN.
George specializes in portfolio management of growth stocks for clients who seek capital appreciation. George's strategy consists of investing in stocks as markets are rising and scaling to cash as markets weakens and/or buying inverse ETFS.
George holds a series 3, 7, 63 & 65. He graduated from the University of Illinois with a Bachelor of Science Degree in 1982, Graduated from the American University of the Caribbean with a Doctor of Medicine Degree in 1985, Graduated from the University Of Illinois School of Public Health with a Master of Public Health Degree in 1991. George further developed his market interests by taking graduate finance and business classes at the University of Nevada, Las Vegas, Graduate School of Business.
---