What the DOW is going on?
How many times did you hear last week that the Dow Industrials hit a 3-month high or that the S&P 500 set a new record close? Sounds like the sky is the limit, but is it?
I often discuss how lagging markets or sectors tend to be the bane of market strategists with a directional opinion. Recently, I discussed how the Dow 30 has been anchored by two of its sister DOW indices: Utilities and Transports. If you look at the chart below (see chart 1) of the Diamonds (ticker: DIA) which tracks the 30 stocks in the Dow Jones Index, you can see that it closed at a 3-month high and is just off its March highs.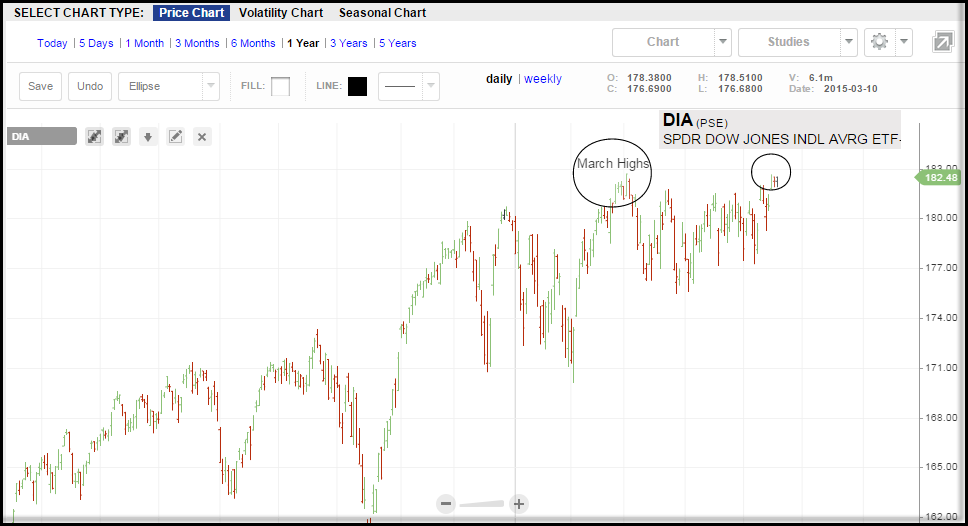 Chart 1
Now this paints a pretty positive picture of the state of the Blue Chips, but I have to take pause because this rally has had little conviction in terms of volume, and the anchor seems to be the under performance in the Utilities and the Transports. If you look at the Dow Transports you see that the iShares ETF that tracks this sector (ticker: IYT; see Chart 2) has been trading below its 200-day moving average and is right off the lows it made in early April. Names like Fedex (ticker: FDX), UPS (ticker: UPS) and Norfolk Southern (ticker: NSC) have been the main culprits in this sector's inability to rally with their large-cap big brother. Now the move of Crude (ticker: USO) has been the main reason that this sector has been lagging. If the Dow is going to challenge previous highs with conviction there will have to be a stronger move in the Transports off of the April and May lows.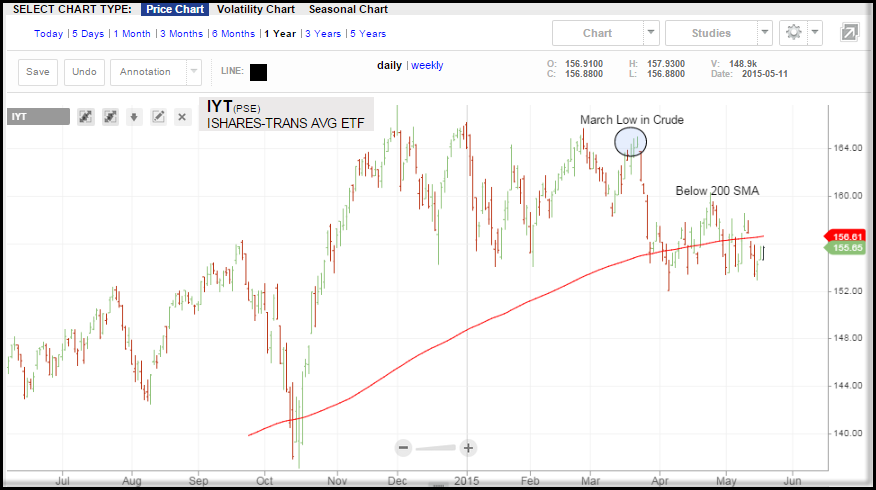 Chart 2
What will also need to pick up are Utilities (ticker: XLU; see chart 3). This sector has been well off its January highs and, as of late, has been trading under its 200-Day Moving average. The weakness in the Bond markets (ticker: TLT) has not been a positive for this interest rate-sensitive sector, and these markets are quite correlated. Bonds (ticker: TNX) have firmed as of late as have Utilities, recovering nicely off the March lows.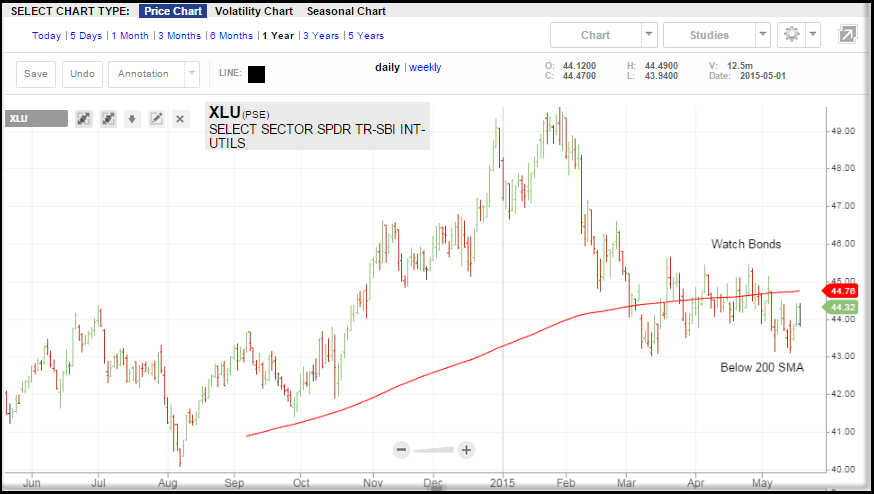 Chart 3
If Utilities can surpass its April highs, we could see a nice trend shift to the upside in this sector and that would be a nice catalyst for the Dow Jones 30 (ticker: DIA), and for interest rate-sensitive stocks in general. If we get Utilities and Transports on the move to the upside that would be a positive for more upside in the Dow Jones and potentially a real challenge (back by volume) to new highs.
Joe Cusick, Vice President of Wealth and Asset Management at MoneyBlock
---